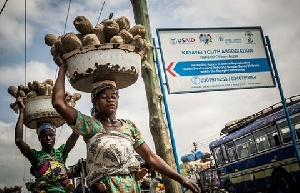 The Akufo-Addo government has resolved to scrap market tolls paid by itinerant head porters (Kayayei), Finance Minister Ken Ofori-Atta has announced to parliament in the new administration's first budget.
The toll is among several taxes lined up by the government to be scrapped completely or reduced so as to bring relief to the ordinary Ghanaian and the business community.

Apart from the Kayayei market toll, excise duty on petroleum products will also be scrapped.

The government also intends to reduce the special petroleum tax rate from 17.5% to 15%.

Other taxes that will be completely abolished include the following:

1. The 1% special import levy
2. The 17.5% VAT on financial services

3. The 17.5% VAT on selected imported medicines not produced locally

4. The 17.5% VAT on domestic airline tickets

5. The 5% VAT on real estate sales

6. Duty on importation of spare parts
Also, the 17.5% VAT imposed on traders has been replaced with a 3% flat rate, while businesses that employ young graduates from tertiary institutions will get tax credits and other incentives.

Furthermore, there will be tax incentives for young entrepreneurs while the Corporate Income Tax will be progressively reduced from 25% to 20% in 2018.

Additionally, Mr Ofori-Atta said the Akuf-Addo government will initiate steps to remove import duties on raw materials and machinery for production.