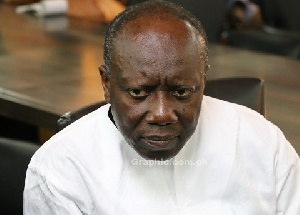 The Finance ministry has begun moves to ensure players in the financial sector respect the guidelines that govern their operations.
The ministry is worried many financial organisations operate beyond their mandate.

The ministry is particularly concerned about the profit seeking motives behind the practice by some Banks, Microfinance Institutions and Fund managers.

Speaking at the 6th AGM of the Association of Microfinance Companies, the Director of the financial sector division at the ministry, Sampson Akligoh said strict monitoring is needed to ensure orderliness in the financial space.

"You see microfinance institution doing a lot of this that fund managers have to do; long term exposure then you see fund managers also coming to Microfinance Institution and sometimes you also see the banks. So really we need to get a bit of core understanding that these issues require a bit of sanity.
"If it's all about making money; yes; I'm from the private sector investment banking is important but we must also know that you make money in a context. So how do we ensure that everybody across the spectrum respect the field that they are in and play that game," he said.

He added that the interest rate regime across the financial sector needs some attention.

He said "Let's be honest with ourselves. I think the financial sector is really challenged. We are not talking about microfinance we are talking about the banks, microfinance, finance institution we are not only talking about them, and we are talking about capital market, a lot of asset management firms.

"The systemic rates is very diverse and one of the key focus that I have at the sector is to see that we really do harmonize these regulators so that they are on the same peddle".