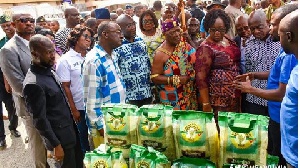 Government is to establish a GHs 400 million fund toward agriculture financing and crop insurance schemes, Vice President Dr Mahamudu Bawumia has indicated.
The Nana Akufo-Addo government also intends to support the development of agri-business start-ups through grants and provide specific technical assistance and tax incentives to support agro-processing, packaging, and market access to provide a boost to Ghana's agriculture sector.

As well, government intends to abolish duties on some agricultural produce processing equipment and machinery, launch a pension fund for cocoa farmers, develop modern storage facilities through the "One-District, One Warehouse" programme and open up key food basket zones through road construction and irrigation projects.

Speaking at the opening ceremony of an 8-day agricultural show leading up to the 33rd National Farmers' Day, Vice President Dr Mahamudu Bawumia said these measures, which are contained in the 2018 budget, form part of the Akufo-Addo government's programme to make agriculture and agri-business a major part of Ghana's economy and provide jobs for the youth.

"Nana Chairman, His Excellency Nana Addo Dankwa Akufo-Addo has a vision to modernize and transform agriculture in order to expand the opportunities for job creation, and to provide the basis for agro-processing industries. The vision is the outcome of careful assessment of the fundamental capacity of the Ghanaian economy and in line with our economic history. It is a history that tells us that massive and sustained investment in agriculture is the surest pathway to accelerated economic development.

"In addition, Government realizes that its aim of promoting agro-industries as a key strategy for achieving rapid industrialization, through the concept of "One District, One Factory" cannot be achieved without a solid agriculture base that thrives on agribusiness."
In a bid to reverse the decline in agriculture, government is developing a major intervention known as the Akufo-Addo Agricultural Plan for the modernization of agriculture in Ghana, Dr Bawumia disclosed.

"Under the charge of the President, the Ministry of Food and Agriculture in early November this year assembled a number of Ghanaian and foreign experts for a 2-day meeting to discuss the future of agriculture in this country. The outcome of the conference was fed into the 2018 Budget for our agricultural transformation strategy.

"I wish to assure you therefore that our policies and strategies have prioritized agricultural development in Ghana and will do everything possible to meet the needs of the agricultural sector. Every effort is being made to make agriculture very attractive to our teeming youth, especially unemployed graduates," the Vice President added.

According to the Vice President, critical issues such as financing and technical support are receiving serious attention with the assistance of Ghana's development partners to facilitate and sustain interest in agriculture.

"Yes we know that the challenge is enormous, but there is nothing a determined people cannot do. I invite you all therefore to take an interest in the opportunities on offer, to help revolutionize Ghana's agriculture and make it a shining example to the world. The examples of countries like Japan, China, South Korea, Brazil, Israel and Thailand among others are there to inspire us. We have done it before and can surely do it again," Dr Bawumia declared.
He expressed special thanks to the Asantehene, Otumfuo Osei Tutu II, for granting a special dispensation for the celebration of the Farmers' Day during a time of mourning for the late Asantehemaa.

"All well-meaning Ghanaians owe the Asantehene Otumfuo Osei Tutu II, and the entire Asanteman a great debt of gratitude for agreeing to host this year's National Farmers' Day under special circumstances.

"For those who may not know, in an unusual break with tradition, the Asantehene Otumfuo Osei Tutu II magnanimously agreed to host National Farmers' Day during a period of mourning coming before the funeral of the Queen mother of Asanteman, the Late Nana Afia Kobi Serwaa Ampem. We are specially grateful because this is a period when all major activities and funerals are temporarily suspended in honour and respect for a loving and distinguished mother of Asanteman.

"This remarkable gesture is not only the highest expression of selflessness and commitment to nation building, but a true mark of statesmanship consistent with the character and reign of Otumfuor Osei Tutu II.

"Nana, on behalf of the President of the Republic of Ghana, Nana Addo Dankwa Akufo-Addo, we say thank you and we are very grateful."
The 2017 edition of the National Farmer's Day will take place on Friday 1st December, 2017 in Kumasi. Unlike previous celebrations, the organisers have included an eight-day national agricultural fair ahead of the Farmers' day celebration. It is under the theme "Farming for Food and Jobs".

Present at the launch was the Minister for Food and Agriculture, Dr Owusu Akoto Afriyie; Minister for Aquaculture and Fisheries Hon Elizabeth Afoley-Quaye; Minister for the Interior Hon Ambrose Dery; Minister of State at the Ministry of Agriculture, Dr Nurah Gyeile, Deputy Minister for Agriculture Hon Kennedy Osei Nyarko; and other senior government officials.

Nana Adu Gyamfi, Otumfuo's Adontenhene, was chairman for the occasion.