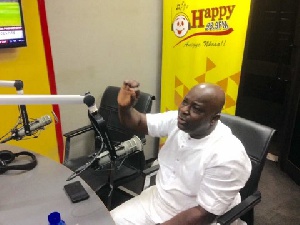 Fri, 25 Aug 2017 Source: Yaa Amoakowaa Obeng
The Executive Secretary of Free zones Ghana, Kofi Baafi, has hinted that government is keen on transforming young Ghanaian entrepreneurs into billionaires through the Free Zones Board.
According to him, previous governments have over relied and used foreign direct investments to grow the platform over the years which had an adverse effect on the Ghanaian economy since the profits made were sent out of Ghana into their respective homelands.

Speaking on Happy FM's current affairs show 'Epa Hoa Daben?' , Mr Baafi disclosed that it is the reason government is calling on the locals to take advantage of the Free Zones and venture into it so that their businesses can be expanded to create more jobs for the unemployed.
"Government wants to make Ghanaians billionaires through the Free Zone. There are several opportunities in Ghana that businessmen can take advantage of. To make this platform lucrative for locals to stay on government has tasked the free zones to go a heard of the local producers to look for more market space for them. This will help the producers to get the best market bargains," he said.

Mr Baafi disclosed further that his office will work on adding some kind of value to the products and services of the locals to help them get the desired income.
Source: Yaa Amoakowaa Obeng