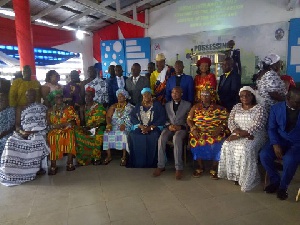 The Deputy Minister of Health Tina Mensah has indicated that the government is in the processes of settling all allowances in arrears owed trainee nurses.
The Minister's assurance comes on the back of threats by some nurses to boycott class over delay in the payment of their allowances which has lasted for over two months.

Tina Mensah revealed in an interview with journalist at the unveiling of the New Gbawe District of the Apostolic Church of Ghana that the government has begun steps to settle the allowances.

She attributed the delay to administrative challenges between the Health Ministry, National Health Insurance Authority and the Ministry of Finance.

She however stated that the 'misunderstanding' has been resolved to pave way for the payment of the allowances.
"The allowances something happened that is why we owe them. It was an abnormality that happened between the Ministry, the NHIA and the Ministry of Finance but we have resolved it so very soon we are going to pay them. Of course we them some allowances. We have about two months to pay them but we are going to pay them. We have this year to pay them so we are going to pay everything", she stated.

The Minister of also praised the Apostolic Church of Ghana for buying into the government's decentralization agenda. She held that the creation of new regions and election of district and municipal and metropolitan chief executives forms part of the government's commitment to bringing governance close to the people.

She mentioned the creation of the new district will aid development in the Gbawe area and also empower the youth to take up leadership positions.