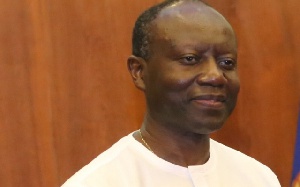 The finance Minister, Ken Ofori Atta has assured that the government in partnership with the private sector will develop the Efua Sutherland Park in Accra into an ultra-modern wold class park.
He believes the park which is under developed will attract tourists if given a face lift.

Presenting the 2017 budget on the floor of Parliament on Thursday, the finance minister further assured that the creative arts and tourism ministry will embark on food festival to show case Ghana's culture.

'The Ministry will partner the private sector to develop the Efua Sutherland Park into an ultra-modern world class Park. Specifically for 2017, Mr. Speaker, we will use IT to promote and market tourism via the single portal window. Mr. Speaker, the Ministry will also undertake a food festival to show case the diverse rich Ghanaian foods through cooking competition throughout the country,' he said.
He said government is poised to improve the ministry to help create jobs for the teeming youth.

'Mr.Speaker, Tourism, Culture and Creative Arts remains one of the most underdeveloped sectors in our economy despite the immense growth potential and opportunities for job creation. When developed, the sector can positively impact the lives of many individuals, families, communities and small enterprises in our country and providing needed jobs for our teeming youth,' he said.