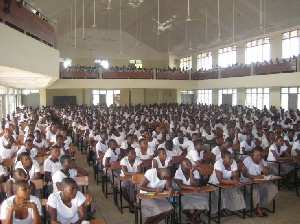 Sun, 5 Mar 2017 Source: GNA
Government aims to shift the structure and content of the education system away from merely passing examinations to building character, nurturing values and raising literate citizens.
Such citizens would also be trained to be confident and engage in critical thinking, Mr Ken Ofori-Atta, Minister of Finance, has said.

Addressing Parliament in his maiden budget statement in Parliament on Thursday, Mr Ofori-Atta said the change in the education system would be done over the medium term.

He said presently, basic education consisting of two years kindergarten, six years primary and three years junior high school was not adequate since it neither equipped the child with the requisite knowledge and skills to face the world of work nor did it empower the child to deal with the challenges of global competitive economy.

He said government intended to overcome the challenge by redefining basic education to include secondary education covering technical, vocational and agricultural education.

"As part of this initiative, Basic Education Certificate Examinations (BECE) will be used as a tool for placement of students into second cycle schools and not for certification.
"To improve the quality and relevance of education, and further make the products of our school system competitive, government will review the basic level curriculum to focus on the four R's (reading, writing, arithmetic and recreation to include life skills and creative skills)".

He said government also intended to ensure that all children had those basic skills when they exited the primary school system.

Mr Ofori-Atta reiterated that the Ministry would commence implementation of free secondary education in September when the 2017/18 academic year starts.

He said the programme would start with first year students in all public senior high schools across the country, explaining that "free secondary education would imply the absorption of all approved fees currently charged to students in public senior high schools."

To expand access to Technical, Vocational and Agricultural Education and Training (TVAET) for the youth, Government would continue the expansion programme for technical institutes and polytechnics which began in 2016.
In addition, government would embark upon the equipping of five technical universities and 10 technical institutes, he said.

He said government would fully restore the payment of teacher trainee allowances, effective September 2017, to make colleges of education freely accessible to all eligible students and train teachers to drive the programme.

"Provision had been made in the 2017 budget to pay allowances to all 43,570 trainees in the 43 public colleges of education," the Minister said.
Source: GNA