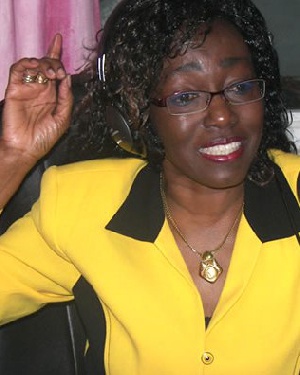 Sat, 2 Jun 2007 Source: jfm
30 then 9 and back to 30 charges
Stop Toying With My Life – N. Konadu
Former First Lady, Nana Konadu Agyemang Rawlings has described as funny government's sudden decision to retain the 30 charges preferred against her and five others contrary to earlier announcement to reduce them to nine.
Speaking to and Accra based radio station JOYFM, Nana Konadu said the state prosecutor is abusing her authority and the legal process. She argued that the prosecution is toying with her life.

"These are people's lives and you are toying with people's life, you are abusing the process because you have the authority and the power so you think you can do what you want therefore you have decided that you have changed your mind about the nine and you are putting back the 30. And I was expecting the judge to say you can't do things like that," she stated.

Nana Konadu added: "For me even though it sounds funny I think it is a serious issue."

Just this week, Mrs. Gertrude Aikins, Director of Public Prosecutions announced the review of the multiple charges, which were subsequently reduced to nine and were also to be substituted. But when the case was called on Friday she stated that the original charges are to be maintained as a result of negative media trial.

The excuse given by the prosecution was frivolous since she has always been at the receiving end of the media since 1992.

"The media has been at me for things that I have not done. So they talk about her that she has taken 21 out of 30 and she thinks that is good enough…and then to make matters worst she actually tells the judge My Lord everybody is entitled to change her mind as and when she wants.
"Frankly, we are not in a kitchen where you can decide that I was going to cook groundnut soup but now going to cook palm nut soup or I was going to wear a pair of jeans this morning but I have changed my mind I am wearing a skirt suit."

The Defence team led by Mr. Tony Luther accused the prosecution of ambushing the defendants and said they anticipated fresh charges and was not prepared to start trial on the original charges.

The other five accused persons are Emmanuel Amuzu Agbodo, a former Executive Secretary of the Divestiture Implementation Committee (DIC), Thomas Benson Owusu, a former Accountant of the DIC, Kwame Peprah, a former Minister of Finance and former Chairman of the DIC, Sherry Ayittey, Managing Director of Carridem Development Company Limited, property of the December Women's Movement and Carridem as an entity.

The accused persons are facing charges including conspiracy, causing financial loss to public property, conspiracy to obtain public property by false statement and obtaining public property by false statement. They have all denied the offences and have been admitted to self-recognisance bail.

Sympathizers including the Former President, Mr. Jerry John Rawlings, the mother of Nana Konadu and Alhaji Mohammed Mumuni, former running mate for the NDC presidential candidate were at the court to support the accused persons.
Source: jfm