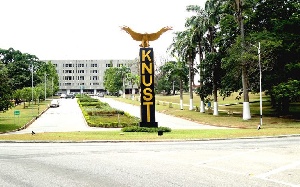 The violent demonstration that hit the Kwame Nkrumah University of Science and Technology (KNUST) campus in October last year, leading to the destruction of properties worth several millions of cedis, is now history, but the fallout has now become a herculean task the security agencies and the university authorities have to deal with.
A planned students' customary procession, which had reportedly lost favour with the university authorities in October last year, was stopped by security personnel on campus. The violence that ensued led to the destruction of offices and anything the students could set sight on. Several students were also injured – a development which led to the closure of the university.

The students were not happy that a popular hall of residence – University Hall (Katanga) – had been turned into a mixed hall by the administrators of the university. They also expressed worry about abuse of power by KNUST security guards, and, above all, Vice-Chancellor Prof Kwasi Obiri-Danso, who turned deaf ears to demands for the reversal of Katanga Hall into a mixed residence.

A year down the line, the President of the local chapter of the University Teachers Association of Ghana (UTAG), Prof Charles Marfo, told Kumasi-based Pure FM that members of UTAG have not overcome the trauma they went through that day. As a result, he said, some of the lecturers, including himself, had decided to carry their registered weapons anytime they go to the campus to lecture, because they are afraid of being attacked.

Prof. Marfo further revealed that the implications of the students' 'needless' protest had resulted in some lecturers fearing for their lives and employing various mechanisms to ensure their safety.

"Do you know that after that, there are lecturers who come to the office with their weapons in their cars? I'm telling you today. Yes, if I have registered my gun, then if I'm coming to class, I have to bring it along because the child I thought was a kid says he isn't, he can set my car ablaze. Kwame, are you saying we need to celebrate?"
Prof Marfo continued: "I can tell you confidently I am one of them. I feel like every student involved must apologise. I know a lecturer who still fears for his life. What kind of life is this? Are you saying this is what we need to celebrate?"

A worried Charles Marfo, who lost the KNUST Pro-Vice-Chancellor elections to Prof. Mrs Rita Akosua Dickson a couple of years ago, contended that the protest should not be celebrated and that the actions of the students were reckless and needless.

"If you are not the one talking about it, I have not even thought about it. If anything, the students' hurt has brought about a transformation in [the] attitude of some of the teachers. They need to ask God for forgiveness for this. If a student you are lecturing is able to set your car ablaze, the student has the capability of killing you, and so next time, if I come to lecture such a student, I don't have to smile."

Reached on phone, Dr Daniel Norris Bekoe, University Relations Officer, he told The Chronicle that the school had not sanctioned any such security measure.

According to him, KNUST had over one thousand lecturers, and won't subscribe to such directive (lecturers carrying weapons). Quizzed on security on campus, Dr Norris Bekoe revealed to this paper that KNUST was calm with the few police officers who are on campus. Attempts made by The Chronicle to speak to Prof Charles Marfo were not successful. The first call which was put through to his cell phone was not responded to. The second went alright, but was terminated.