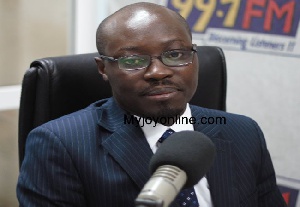 The Executive Secretary of the Importers and Exporters Association of Ghana, Samson Asaki Awingobit, says the former Deputy Minister of Finance in the erstwhile Mahama administration, Ato Forson does not have the moral authority to castigate the Akufo-Addo government on taxation measures and the current tax regime.
According to him, What he[Ato Forson] has conveniently forgotten is his own taxation policy in the last administration for which reason it brought harsh conditions to importers and exporters in their business.

A former Deputy Minister of Finance, Cassiel Ato Forson, described the cancellation of the 1 percent import levy as insignificant, which will not inure to the benefit of businesses.

According to him, if the government meant well to relieve Ghanaians of the burden of taxation, it would have scrapped the 2 percent levy off completely.

He's referred to the 2017 budget statement as deceptive and populist.
But speaking on the tax cuts, Mr Asaki said the reduction in taxes on the importation of raw materials would have positive effects on the economy.

"Half loaf of bread is better than none-because in their time we closed down stores, supermarkets like Koala, MaxMart Shopping Centres and others for good three days- We even issued a directive at Harbour to our members not to pay duty. So if at that time Hon. Ato Forson was a Deputy Minister and he couldn't advise his Minister to say ooh just give them the 1% to go so that they will be free, and this government in their first 40 days in office, managed to cancel the 1% import levy, we'll praise them and ask for more.

"We know in the next mid-year review of the Budget, or the Budget reading for the next Fiscal year-2018, probably by then the government would have gotten monies elsewhere to do other things and can also consider taking off the 2% entirely," he told Fiifi Banson on Anopa Kasapa on Kasapa 102.5 FM