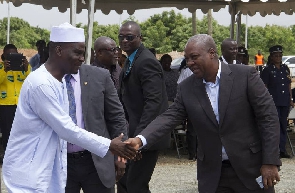 Thu, 26 Jan 2023 Source: Richard Asamoah, Contributor
A former executive of the Tema East constituency branch of the opposition National Democratic Congress (NDC), Stephen Ashitey Adjei, has revealed that the shocking removal of Tamale South MP, Haruna Iddrisu, as Minority leader is a move that a pro-Mahama leadership of the party has made to deodorize the image of the NDC for Mr. Mahama.
In a write-up, Mr. Ashitey Adjei, who is popularly called Moshake, condemns the move as propaganda that does not consider the larger interest of the party.

"There is the feeling among the pro-Mahama camp that Haruna Iddrissu being a Northerner, just like John Mahama, does not inure to the image of the party as a regionally balanced one.

"And so, in order to move the party's image from appearing to be dominated by Northerners and lacking adequate Akan representation in its leadership, the decision was made to sacrifice Haruna Iddrisu," Moshake wrote.

The former Tema East executive however condemned the move as parochial propaganda that puts the interest of an individual above that of the rest of the party.On Tuesday, January 24th 2023, the country was thrown into disbelief when the NDC released a statement announcing that its popular Minority Leader, Haruna Iddrissu was being replaced."It has become necessary for you to deploy you from your current position as Deputy Minority Leader with immediate effect," a statement signed by the General Secretary of the party, Fiifi Kwetey said.

It further announced Ajumako Enyan Asiam MP,   Dr Cassiel Ato Forson, as Haruna Iddrissu's successor.
Also, the statement announced that Deputy Minority Leader, James Klutse Avedzi, was being replaced with Ellembelle MP, Emmanuel Armah Kofi Buah.

According to Moshake, "the changes are not worth celebrating," as "they unnecessarily antagonize some of the party's good materials."

The former Tema East executive said he was not against redeployments in the party per se, but that, "demoting people just to help position John Mahama to win elections is not right."

He called on the party to reverse the decision if possible, warning, "as we are in opposition Parliament remains our most hopeful battle front against the NPP. We need to have our very best in the frontlines here and everybody knows that Haruna Iddrisu is the very best we have in Parliament despite the fact that he cannot run away from mistakes.
Source: Richard Asamoah, Contributor