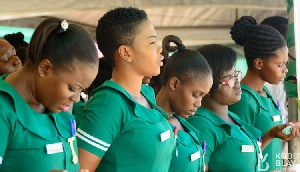 The Ministry of Health has been given the financial clearance to pay rotation allowance to 8,062 Diploma Nurses and Midwives who have started their twelve months mandatory rotation in April 2019 and have been verified by the Nurses and Midwifery Council.
A statement signed by the Deputy Minister of Finance, Abena Osei-Asare said the emoluments of the Diploma Nurses and Midwives should be charged against the Compensation of Employees vote of the Ministry of Health in the 2019 Annual Estimates.

It said the Ministry of Health is to ensure that the rotational Diploma Nurses and Midwives have their documents processed in time and placed on the Mechanized Payroll early enough to enable the Controller and Accountant-General's Department effect payment of their salaries.

"The effective date of the appointed Diploma Nurses and Midwives should not be earlier than 1st April 2019. Arrears associated with this financial clearance should be paid in two equal instalments.

"By a copy of this letter, the Controller and Accountant General is requested to effect the payment of their salaries and make appropriate deductions of Social Security and Income Tax to SSNIT and the Domestic Tax Division of Ghana Revenue Authority (GRA) respectively. Please note that the financial clearance expires at the end of 31st December 2019 and cannot be used thereafter," the statement added.
Rotational nurses doing their national service across the country have protested the government's delay in paying them their monthly allowances adding that the government is making a move to reduce their due stipends.

The members numbering about 8,000 said they are owed up to seven months of arrears with government varying their payment grade, reducing the amount due them.