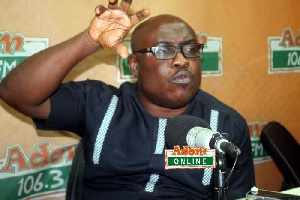 The Deputy Communication officer of the National Democratic Congress (NDC) has denied allegations that he is responsible for the leaking of the party's chairman's audio which was recorded during a meeting.
Kwaku Boahen who was responding to rumours about his involvement in the leaking of the tape insisted that he was nowhere near the venue for the meeting on the day it was held; suggestions that he leaked the audio, therefore, are ridiculous he said.

"There's rumour going round that I recorded the meeting but let me make it clear that I wasn't even in the meeting. I travelled to Kumasi for medical check-up," he told media personnel at the CID Headquarters.

He added that leaders of the party including the chairman were aware he was out of town at the time.

Asked why he quickly reacted to the audio when he was not at the meeting, Kwaku Boahen noted that he doesn't need permission from anybody to defend the Chairman of the NDC.

"I know honourable Ofosu-Ampofo, he's a clean man and if I wake up in the morning and there's any rumour going on against him, I'll defend him before I consult him because I know what he can do and what he cannot do."

The NDC Chairman, Samuel Ofosu-Ampofo is currently at the CID Headquarters to answer questions in relation to an audio recording of him making some statements regarded by some as a threat to national security.
In the leaked audio, Ofosu-Ampofo told party communicators that "we're going to take her [EC boss] to the cleaners."

"As for the EC chair, we must wage a relentless war on this EC chair. Me, she doesn't want to see my face," Ofosu-Ampofo allegedly said at the meeting which took place after the Ayawaso by-election.

Ofosu-Ampofo also gave his blessings for the party's communicators to 'insult' the Peace Council chairman Professor Emmanuel Asante.