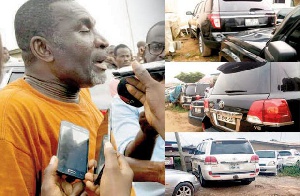 The embattled auctioneer who was busted with 37 vehicles belonging to the state, Mr William Baah insists he is not a thief and will drag anyone who describes him as such before court for defaming him.
According to him, he was only keeping the vehicles on the directive of a court of competent jurisdiction and that he only offered to preserve them until such a time further instructions may be issued.

While stating that he was acting on these directives,he wondered why members of the government taskforce will describe him as a criminal when he has actually not committed any crime.

"When you owe a bank or an individual and the person takes you to court; the court goes to your house for execution and when they find a property or car on your premises they seize it and ask you to go and pay your debt after that you come for your vehicle," Mr Baah stressed.

He added that "All these cars can't be parked at the court premises. That is why we have auctioneers and debt collectors so when the cars are seized the court will authorize the auctioneer to go for the vehicles for preservation. The cars over here are not mine. When you put these cars on screen you embarrass the owners of the vehicles and the auctioneers". He said.
The Asset Retrieval Taskforce at the Presidency on Wednesday, an area called Oforikrom, near Nsawam in the Eastern Region on the early hours and raided a private property, where the 37 cars, including those registered in the name of State Protocol Department (SPD), was found.

Akwasi Abebrese, a member of the taskforce of the Office of the President, said the retrieved vehicles included a BMW salon car, two Toyota Land Cruisers, as well as Mitsubishi Pajero, which have since been transported to Accra.

Some of the vehicles are registered GR 4564Z (BMW); NR 5577-14 (Ford Explorer); WR 907-09 (Ford Expedition); GE 6275-11 (Ford Expedition); GN 5150-12 (Nissan Patrol); GR 7904 -10 (Toyota Land Cruiser); GS 6985-13 (Toyota Land Cruiser); GM 856-14 (Nissan Patrol); GC 5961-11 (Chrysler), among others.