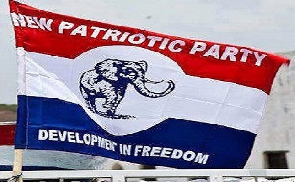 Abdul Tarig Bonsu, a DCE aspirant in the Central Region has rubbished allegations by some elements in the NPP party that he paid a GHC100,000 bribe to the Regional Chairman, Mr. Robert Kutin while jostling for such position months ago.
Reports were rife that the Chairman, Mr. Kutin had collected bribe from a number of DCE aspirants, to facilitate their nominations of which Bonsu alias Abdullah was said to be part of, but was denied the position along with others in the long run.

Deputy Regional Organizer, Matthew Botwe, alias California who was behind the wild allegation making rounds said his investigation points to the fact that Abdullah, alleged to be a son of businessman, Dr. Kwaku Oteng(face behind Angel Group of Companies) is peeved because the chairman had disappointed him(Abdullah) and hence was not ready to settle less for any other offer to appease him.

The claims made against the Chairman has seemingly divided the Regional executives in the region, as some loyal members of the party said the allegations only sought to poison the atmosphere after a successful nomination of the MMDCEs in the region.

The first Vice Chairman, Joe Donkor has disputed the bribery claim, insisting the accusations are attempts to dent the image of the selfless party Chairman who has toiled for the party from old.
He told Kasapa FM, the accused is a powerful businessman who can't be involved in bribe issues.

Speaking to host Fiifi Banson on Anopa Kasapa on Kasapa 102.5 FM, Friday, Abdullah denied the allegations, insisting there is no iota of truth in the claims being made by the Deputy Regional Organizer.

"If I have that GHC100,000 on me now, I would rather invest it in my business. It's true that I presented my name for such position but was Okay when my name did not appear in the final list. I feel we'll all have to support the party to propagate the good works by this government. Mr. Kutin has a reputation and I think it's unfair to dent his image in such manner."