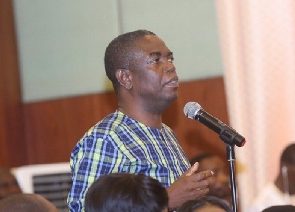 Seasoned journalist, Kwesi Pratt Jnr., has asked the New Patriotic Party (NPP) to wake up from their slumber and continuous daydreaming over the victory in the Kumawu by-elections.
Mr. Pratt, who made some jaw-dropping allegations on Metro TVs Good Morning Ghana on Wednesday, 24th May 2023, suggested that the NPP recorded its biggest defeat in Kumawu.

"Today, I'm reading the news and all the headlines are talking about landslide victory, I don't see any landslide victory in this election. First of all, if you do the analysis, clearly, more than 10,000 people who voted in the last election did not vote in this election and clearly, NPP lost substantially, " he said.

He argues that the 2020 elections saw an independent contender clamoring over 10,000 votes from the NPP which was quite the opposite from the recent by-elections.

Mr. Pratt also made some observations on the calculations by the NPP as an impending victory in the 2024 general elections following their win in the by-elections, a situation he called to be a "snowball's chance in hell"
"For some, this is the indication that the NPP is going to break the eight, I don't think that we are there yet, given the figures that we have and also given the figures that this is a traditional NPP seat," the Managing Editor of the Insight Newspaper said, "In fact, if anybody has lost votes in this by-election, it is the NPP who has lost votes in this by-election."

The ace journalist suggested that given the circumstances and hectic procedures, the NPP had to go through in winning the by-elections, it gives him the indication that not much has been done to convince the Kumawu Constituency.

He concluded by throwing a challenge to the main opposition National Democratic Congress (NDC) to have an intensive review of the election if they intend to make a name for themselves in the 2024 general elections.