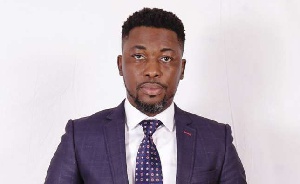 Controversial Ghanaian musician, Kwame Asare Obeng popularly known as A Plus is daring Executive Chairman of the State Enterprise Commission (SEC), Mr Stephen Asamoah Boateng to go ahead with his civil action against him.
"I hate people who instead of suing me, write long love letters asking for an apology or they will sue me. If you want to sue me, do you need my permission before? Ah!!! Just go ahead!!! That's what all the people who sue me do. Why?" A Plus wrote in a response to a threat by Mr. Stephen Asamoah Boateng to sue him if he failed to retract and apologize a defamatory comment made against him[Asabee].

Mr. Asamoah Boateng through his lawyers is demanding an unqualified apology from the Musician following the alleged "malicious and unsubstantiated" comments made against him.

Letter published below;




But A Plus has insisted he won't apologize daring Asabee to drag him to court.
"I've made such serious allegations against you and instead of suing me to save your image and credibility if any, you are there asking for an apology. If you are not guilty, will you do this? …I'll just wait for him to sue me. Apology di? borga forgeti!!!" A Plus wrote on his Facebook Wall.

The two were engaged in an altercation in a leaked chat as the both hurled insults at each other following the government appointee's decision to claim a parcel of land A Plus says he has no title to.

A structure on the said land which the New Patriotic Party (NPP) supporter insists belongs to a young man based in the USA, has since been demolished on the alleged orders of Mr. Asamoah Boateng, which he's since denied through his Lawyers.