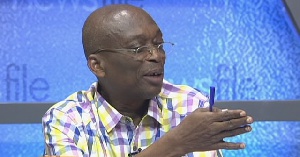 Editor-in-Chief of the New Crusading Guide Newspaper, Abdul Malik Kweku Baako, has slammed riotous students of the Kwame Nkrumah University of Science and Technology (KNUST) for staging a violent demonstration on Monday, October 22, 2018, against the school authorities.
According to Mr Baako who's a veteran organizer of demonstrations, the act of vandalism by the students which saw over 3o vehicles being destroyed was "mindless and needless" adding that advancing in age and upon hindsight, he's learnt that no issue can be solved using violent means.

The angry students burned down the official vehicle of the Dean of Students and reportedly ransacked the Vice Chancellor's office. They also ransacked the security post on the school premises.

The students accused the school's management of brutalizing them after they were accused of engaging in illegal 'morale' activities which included drumming during a hall week celebration.

The university has since been shut down indefinitely.
Speaking on the development on Peace FM, Kweku Baako, though admitting he was on the side of students in principle that their concerns need to be addressed, he would rather prefer they use appropriate means to register their displeasure with the decisions by the University authorities against them.

"We could question, debate and argue out the merits or otherwise of that policy, is the cure for that mischief it is one the mindless and senseless violence? why are we afraid to openly say that, that act of vandalism should not be entertained. In principle, I've always been on the side of the students but they've distorted their case by the level of mindless and needless violence they perpetrated destroying both public and private properties. Now the University has been closed down, who loses more, is it not the students.

"I feel very constraint to talk much about these things because as a young man I participated in such things which led to my dismissal from school. It's with the benefit of hindsight, age and experience that I'm seeing that honestly some of those things were not right…that no matter how gargantuan the challenge maybe you don't take up violence as the way forward, you just can't solve the issue resorting to violence. The very moment you resort to violence you begin to dilute your support base.

He added: "People will question what moral authority I have to be condemning this thing because I've been part of it before, but they shouldn't forget that 64 years Abdul Malik Kweku Baako is not the same as the 25-year-old Kweku Sam Kakraba Baako. I've changed, I've aged, I've become more experienced, sensible, I've stopped the unbridled buffoonery. I know I've hurt some people, some people don't agree with me and I respect their views."