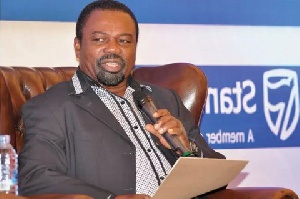 Security analyst Dr Vladimir Antwi Danso has denied reports that he has blamed the spate of kidnappings in the country on the opposition National Democratic Congress (NDC).
Some media reports say the security affairs lecturer has defended the arrest of the NDC chairman Samuel Ofosu Ampofo in connection with the kidnappings and suggested that the act could in sabotage of government.

"It is possible, I am not saying it is happening, but I haven't seen $10,000 before, but supposing, keep these girls for two days and get $10,000 I will do it somehow, I'm not saying that is the truth.

"It's possible within our setup where corruption is this high and in the eyes of the international community, we could always do something to disturb the government, I am not saying it is happening but supposing, if somebody wants to make Nana Akufo-Addo look bad in the eyes of the public for the next elections," he reportedly told Joy News.

Speaking to Francis Abban on the Morning Starr Thursday, the international relations expert said he did not point fingers at the NDC.

"I never said the opposition NDC was behind the kidnappings in Ghana," he said.
Also noted crime must not be politicized.

"very criminal belongs to a certain political party anyway. Better put, every criminal votes for one political party or another. If we link crime to politics, it only means we want to give crimes political colors. There is an issue if the political party tasked the person or people to embark on the criminal activity".

Meanwhile, least eight persons have been arrested in an operation to rescue the two kidnapped Canadian nationals in a suburb of Kuamsi, government said Wednesday.



The eight include five Ghanaians and three Nigerians, information Minister Kojo Oppong Nkrumah said at a press conference in the capital Accra.
Lauren Tilley and Bailey Chitty were rescued by Ghanaian police on Wednesday after being held hostage for a week.

"Five Ghanaians and three Nigerians are in custody for this incident. One suspect sustained injuries during the rescue operation. Victims have been flown to Accra. Preliminary investigations show they are fine and are receiving the necessary attention," Information Minister Kojo Oppong Nkrumah told the media at a brief press conference on Wednesday.

"They were rescued at Kenyase in a Kumasi suburb. Doctors and psychologists are engaging the victims to give them all the necessary emotional and psychological support," he added.