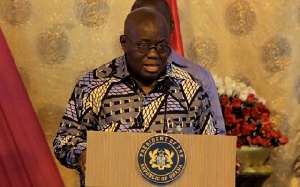 The President Nana Addo Dankwa Akufo-Addo has stated that he is more focused on fulfiling God's purpose and not moved by threats by some 'Galamseyers' in voting against him in 2020 general elections.
The Akufo-Addo government has given a 40-day window period to miners in the country to move their machines from their sites.

Speaking at Soabe in the Eastern Region on Wednesday he said, 'I have been told some of the people engaged in illegal mining have threatened to vote against the NPP in 2020 if I crack the whip on the culprits. I am more concerned about fulfilling God's purpose and devising measures to propel the nation's development. That's my focus and not election-related issues.
Things we must do to propel development are the things I am concerned about. Our forefathers left us the natural resources. If we can't protect them, then we should leave them for future generations'.