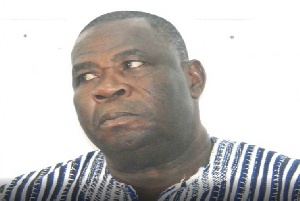 The Northern Regional Chairman of the ruling New Patriotic Party (NPP) Bugri Naabu has threatened to file a lawsuit against the Minister of Gender and Women Affairs Madam Otiko Afisah Djaba for defamation.
A livid Naabu said he will not ask Madam Otiko to apologise to him, but will rather meet her in court in the coming days.

He questioned why the Gender and Women Affairs Minister would accuse him of collecting goats, sheep and cow from people with the promise of offering them jobs.

"Is she sure of telling me that I am taking goats, sheep, cows and money? Can she come out and say I have taken money from this person? She should come out and explain. I will not ask her to apologize; I'm going to take her to court," he threatened on Accra based radio station, XYZ.
He accused the President Nana Addo Dankwa Akufo-Addo of turning a blind eye on allegations levelled against some party gurus by Madam Otiko.

'She has been doing that, everybody in the party is fed up with her. The President doesn't want to take any action against her. So I am not going to wait for her to apologize, I will take her to court,' he said.

Mr Naabu 'unruly' disrupted a meeting held by the Gender Minister saying the meeting was to kick against a name tipped for the school feeding programme position.