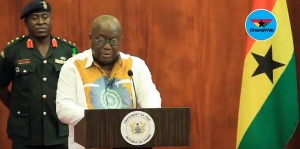 "I am being urged to pay contractors. I am paying them. In 2017, nearly GH¢1 billion (GOG – GH¢300,400,156.75; Road Fund- GH¢664,091,476.88) of the GH¢1.6 billion owed road contractors was cleared. In January this year, we have disbursed GH¢125 million out of the remainder of GH¢600 million to the contractors."
These were the words of the President Nana Addo Dankwa Akufo-Addo at a media encounter, at the Flagstaff House on Wednesday, 17th July, 2017, to commemorate his one-year in office.

In his introductory remarks, President Akufo-Addo stated that his government has paid GH¢826 million of the GH¢1.2 billion loan contracted by the previous administration, for which the Road Fund was used as collateral.

"It is important to note that all these debts were accrued under the previous administration. I will also point out that much of the statutory arrears, that we met, have been cleared, that is debts to the NHIS, the District Assembly Common fund, and the GETFund," he said.

President Akufo-Addo pointed out that the salary arrears that were paid to teachers last week, to the tune of GH¢14 million, were accrued from 2013 to 2016.
"The regimen we have in place now is to pay government bills as they come due, and not accrue arrears. We are resisting the temptation to award contracts, when funds are not available to pay for the certificates as they come up. Those who conduct business with government will find that things are being done differently," he assured.

President Akufo-Addo revealed further that his administration has had to subject 11 billion cedis of arrears, bequeathed his government in 2017 by the Mahama administration, to a process of audit review and validation.

"The audit service has certified payments to the tune of GH¢5.5 billion, and rejected about GH¢5.7 billion cedis, representing a potential savings of 51% on these outstanding commitments. This shows the validity of our criticism that so much of contracts awarded in the Mahama era were inflated," he said.

The President continued, "I have promised to protect the public purse, and I am doing just that. Those who have done honest work, and at honest rates for the government, will get paid and paid on time so their profits do not get swallowed up in bank interests, and, thereby, threaten the collapse of their businesses."