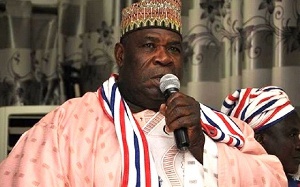 The Northern Regional Chairman of the NPP, Daniel Bugri Naabu has apologised to Upper East Regional Minister Rockson Bukari for alleging that he was "deeply" involved in the murder of the party's late Upper East Regional Chairman Adams Mahama.
According to Mr Bugri Naabu, the allegation he made against the Minister was a "slip of tongue."

In a letter dated Wedensday, 10 May, Mr Naabu said: "I write to sincerely and unreservedly retract wholly my comments about your client in an interview I granted Accra-based Radio XYZ. I note, most regrettably, that those rather unfortunate comments have since Monday 8 May 2017 gained wide publicity and may have implications for an ongoing trial in the High Court.




The allegation, Mr Naabu noted, "was a slip of tongue" and "was not intended to denigrate him."
"Hon Rockson Bukari is my brother and under no circumstance would I seek to tarnish his hard-won reputation.

"Immediately my attention was drawn to the comment I personally called him and apologised to him and his family unreservedly. I do not have any facts beyond the police investigations on the matter. And I am truly sorry to the minister, his family and all those I have hurt by those comments."

Mr Bukari had given Mr Naabu up to the end of today to apologise or get sued in court.