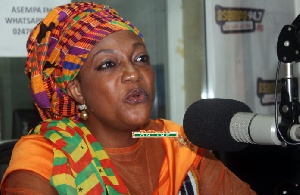 The Northern Regional Chairman of the governing New Patriotic Party (NPP) has denied ever saying Gender, Children and Social Protection Minister Otiko Afisa Djaba, is a lesbian.
"I have never accused her of being a lesbian but it is on the internet every … but I'm not the one who said it," Mr Bugri Naabu told journalists in a recent interview, stressing: "I didn't say so, I haven't even heard it but it's all over."

Ms Djaba was trolled on social media to that effect after a war of words between her and Mr Naabu.

The fight started after Mr Naabu violently disrupted a meeting organised by Ms Djaba in the Northern Region on Friday, 5 May.
Ms Djaba subsequently hit back describing Mr Naabu as a bribe taker who extorts cows, goats and cash from people lobbying for jobs in the Akufo-Addo government.

Mr Naabu then returned fire by accusing Ms Djaba of having had a hand in the murder of the NPP's Upper East Regional Chairman, Adams Mahama. It was alleged on social media that Mr Naabu accused of being a lesbian during that particular interview with Accra-based Radio XYZ. But Mr Naabu has denied ever using that word on Ms Djaba.