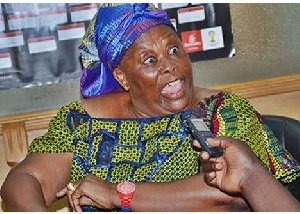 An activist of the governing New Patriotic Party (NPP) Hajia Fati has vowed never to allow suspended National Vice Chairman of the Party (NPP), Sammy Crabbe, from picking nominations forms to contest for the position of National Chairman.
The vociferous Hajia Fati, on Friday prevented Mr Crabbe when he attempted to pick forms earlier on Friday at the Asylum Down headquarters of the party.

A year to the 2016 general elections, the National Executive Committee of the NPP suspended Mr Crabbe indefinitely together with then-General Secretary Kwabena Agyepong and then-Chairman Paul Afoko, for, among other things, making utterances that were injurious to the chances of the then-opposition party's presidential candidate at the time, Nana Akufo-Addo.

Their suspension has not yet been reversed, hence his decision to contest for the chairmanship in spite of the suspension has come as a surprise.
Some have said Mr Crabbe must be allowed to go through the process as he's sure to be heavily defeated but Hajia Fati insists he must not be the least entertained in the contest by the party.

She told Kasapa News that once Mr Crabbe took the NPP to court over his suspension, she Hajia also has the right to ensure she blocks him from going through the party's electioneering process.

"I've been a party member for a long time, since the days of Adu Boahen and I once contested for the Vice Chairmanship position where I secured 285 votes, so if he's the right to take NPP to court then I also have the right and power to stop him from the electioneering process. Sammy Crabbe doesn't like the NPP, if he wouldn't have taken the party to court. What's his business now, wanting to become the National Chairman."