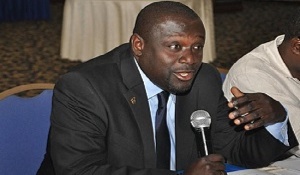 The Eastern Regional Director of Communication of the ruling New Patriotic Party (NPP), David Prah has called on the public to disregard comment made by a Member of the Economic Management Team of Government, Dr Mark Assibey Yeboah suggesting that the proposed Koforidua interchange captured in the 2019 budget was "an error".
According to Prah, the comment made by Dr Assibey Yeboah "was rather in error" hence must not be taken seriously adding, his comment was not the position of the government.

"The government position is that Koforidua requires an interchange and overhead to support the free flow of traffic so that those of us here can go about our activities with ease and the alacrity it deserves. So what he [Dr. Assibey Yeboah] rather said was in an error and not what the Finance Minister said," Prah stated.

Dr Assibey Yeboah who doubles as the Member of Parliament for New Juaben South and Chairman of the Finance Committee of Parliament described as an "error" aspect of the 2019 budget statement which stated that an interchange will be constructed in Koforidua, the Eastern Regional Capital.

The Finance Minister Ken Ofori Atta stated in the 2019 budget statement that government has devoted $2 billion for infrastructural projects across the country which included the construction of roads and interchanges including the Koforidua Interchange.

However, speaking on Koforidua-based Kingdom FM on Tuesday 16 April Dr Assibey Yeboah stated that "What is an interchange, an interchange is needed where there is heavy vehicular traffic. In Koforidua where do we need an interchange? We don't need an interchange in Koforidua. If that was said by the Minister he might have done it in error."
His comments have been greeted with massive criticisms and accusations of deceit against the government.

The Eastern Regional Director of Communications of the ruling NPP told the media Friday that, the comments by Dr Assibey Yeboah were unfortunate and shocking.

"The Finance Minister and other government officials did due diligent in proposing the construction of the Koforidua interchange. So I was surprised the Member of Parliament said it was said in an error. I don't think it was said in an error. It was said appropriately. So what he [Dr. Assibey Yeboah] said that is not the position of the government," he maintained.

According to him, Koforidua is developing rapidly with increasing vehicular traffic build up, therefore, deserves an interchange to ease the traffic situation which the party in the region is in full support of Kojo Ansah.