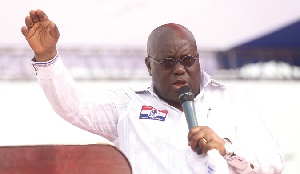 The Akufo-Addo government's popularity is expected to take a massive nosedive in the coming days if it attempts to increase the current 17% Value Added Tax (VAT) rate.
There are strong indications that government will increase the VAT rate from 17.5% to 21% when the Finance Minister presents the mid-year budget to Parliament next week Thursday.

Gabby Asare-Otchere Darko, a strong voice in the current government gave a hint in a Facebook post-Wednesday.

"Will you support a VAT increase to keep your lights on, your secondary schools filled, your school kids fed, your streets clean, your streets safe, young graduates employed, and decent, affordable homes built for working families?" Gabby asked.

However, it appears many Ghanaians are not happy about the impending tax increases, adding that the move will only increase hardships on Ghanaians.
Some sympathizers of the New Patriotic Party (NPP) have warned the government to tread cautiously on the matter to avoid a needless backlash.

Some Ghanaians say the Akufo -Addo government should rather reduce the huge size of government and also focus on retrieving stolen state money.

Ironically, President Akufo-Addo was one of the leading figures of Alliance for Change (AFC), the pressure group which embarked on a series of anti- VAT demonstrations dubbed, "Kume Preko" across the country in 1995.

Some will cynically say, "history has a way of repeating itself"