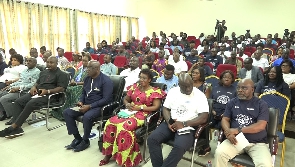 Tue, 4 Jul 2023 Source: Eye on port
Stakeholders in Ghana's Maritime Sector, last Friday, joined the rest of the world to demonstrate a renewed commitment to the fight against maritime pollution ahead of the Day of the Seafarer will fall on June 25, each year.
This year's Day of the Seafarer coincides with the 50th anniversary of the International Convention for the Prevention of Pollution from Ships (MARPOL) which was initiated in 1973.

At a forum hosted by the Ghana Maritime Authority (GMA) in collaboration with the Regional Maritime University (RMU), the various participants including seafarers, students, lecturers, and maritime administrators, among others, discussed the contributions of seafarers to the safety of shipping and prevention of marine pollution and the challenges encountered.

The Director General of the Ghana Maritime Authority, Thomas Kofi Alonsi, assured of his outfit's commitment to the fair treatment of seafarers.

"The Welfare of Seafarers has always been our concern and as such the Authority is making efforts to ensure that embarkation and disembarkation of seafarers are registered at our offices by seafarer recruitment and placement agencies for safety and security reasons.

A typical committee has also been commissioned to report on fiscal related issues-particularly in regard to conditions on board vessels," he said.

Regional Coordinator for the International Maritime Organization, Capt. Dallas Laryea on behalf of Secretary-General, Kitack Lim, encouraged seafarers to use their platforms to promote the sustainable protection of the ocean.
"We invite you to share on social media what you see when you are at sea. Show us the equipment you use to protect the environment, the special training you received. Tell us how you protect our ocean and planets because when it comes to the implementation of all the IMO International treaties majority are done by seafarers," he stated.

The Acting Vice Chancellor of the Regional Maritime University, Dr. Jethro Brooks Jnr. called on government and industry to collaborate towards linking graduates to suitable careers.

Minister for Transport, Kwaku Ofori Asiamah, in a speech read on his behalf, by the Chief Director of the Ministry, Mabel Sagoe, touched on the socio-economic benefits the new Cabotage law passed will bring to Ghana.

"Ghana has passed into law the Ghana Shipping Cabotage Regulations 2021 LI 2438 which reserves 50 percent of all officers and 75 percent of all racing positions aboard vessels operating service within Ghana's maritime jurisdiction for Ghanaian seafarers.

This initiative will not only strengthen our national economy but also generate employment prospects for our citizens and those local capacities," she said.
Source: Eye on port