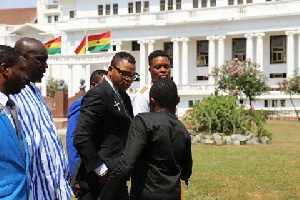 Founder and Leader of the International God's Way Church, Bishop Daniel Obinim has told an Accra Circuit Court hearing a case against him for physically assaulting his two adopted children that it amounts to disrespect for him to be in court.
Daniel Obinim also told the court his time is being wasted on regular basis.

According to him, he finds it difficult to understand why he is being prosecuted when he continues to take care of the the two adopted children.

Our court correspondent, Daakyehene Ofosu Agyeman reported the Prosecutor, DSP George Amega was not in court today (Thursday) when the case was called compelling the Judge, Abena Oppon Adjin Doku to adjourn case to Feb 17.

Bishop Obinim told the media after the court proceedings that he is unhappy with the way he is being treated in the matter.

"Every week, the girl (victim of his abuse) goes for anti-natal care at the hospital and me the one taking care of her is being toyed with in court. Even the judge is not happy with what is going on, it is even disrespectful for me a Bishop to be in court. I have a discerning spirit I see the Judge is not happy to see me in court. Some Judges are even shocked to know that while I'm being prosecuted I'm still keeping the children. The foolishness being exhibited in this case is too much."

Background
Bishop Daniel Obinim in a video which went viral on social media a couple of months ago was seen with the support of his two junior pastors using a belt to lash two young adults, Elliasu Obinim and Gyesiwaah Obinim he claimed were his adopted children.

The two were accused of fornication and attempting to abort a pregnancy.

The Bishop was sternly criticized by the general public, lawyers and religious leaders after the video surfaced on social media, but he found nothing wrong with his conduct.

The case was later reported to the police for investigation.

While Obinim has been charged with physical abuse contrary to section 4 of the DOVVSU Act, his accomplices Kingsley Baah and Solomon Abraham who are his junior pastors have been charged for abetment of crime.