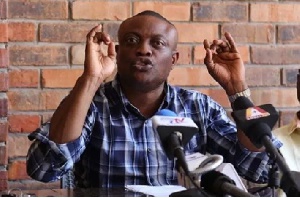 Private legal practitioner, Maurice Ampaw has drawn a thin line between a purported leaked tape of the Criminal Investigation Department (CID) boss, DCOP Maame Yaa Tiwaa Addo Danquah and that of the embattled National Chairman of the National Democratic Congress (NDC), Samuel Ofosu-Ampofo, and MyNewsGh.com reports.
"The leaked tape of Maame Yaa Tiwaa Addo Danquah can be described as an administrative error whilst that of Ofosu-Ampofo bothers purely on criminality", the lawyer spoke on Kumasi-based Nhyira FM morning show monitored by MyNewsGh.com.

According to Lawyer Maurice Ampaw, for those especially members of the opposition NDC seeking equalization of the leaked tape of Mr. Ofosu-Ampofo and that of CID boss are just mixing apples with the oranges.

"It is will be senseless to seek equalization because the content of the two leaked tapes are not same", Lawyer Ampaw pointed out to host of the show, Aduanaba Kofi Asante Ennin.

The leaked tape which Mr Samuel Ofosu Ampofo himself has described as doctored, appears to have sparked trust issues among the top echelons of the party with leadership suspecting moles within to have been planted to destabilize the front of the NDC.

On Monday, Mr Samuel Ofosu Ampofo on Monday March 4, 2019 refused to admit or otherwise whether the voice in the infamous leaked tape is his.
Several attempts by police interrogators to get the NDC executive speak about the issue proved futile to the extent his lawyers had to intervene and caution the police against harassing their client.



Mr. Ofosu Ampofo in the tape in part is heard saying ""Once we are focusing our attention on Akufo-Addo and in fact I think that we should not focus too much on the IGP.

In fact a policewoman called me and said as for them, they regard the IGP as a civilian because the man is [retired] and once you have retired as an IGP…this came from a policewoman.


And so even though we will bash the IGP, I think that the whole thing was political so we must situate the communication on the president who is the commander in chief and who controls the security agencies and how he has shown his true colours as a very violent person.



We traced the antecedent from when he became a flagbearer and what he did to his own chairman and others and created a culture of silence and beat people up and did all sorts of things and has brought him into government. We need to expose him so that tomorrow as my brother said if NDC decides that we are also organising ourselves which of course we are going to organise and organise ourselves well then gradually we have shifted the attention onto them. In fact when people hear of violence in by-election, they will be thinking about Invincible Forces and the rest so we will quietly be doing our own thing."