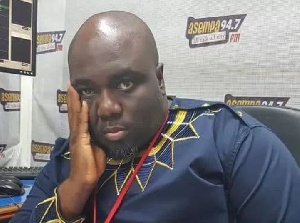 The one-week celebration of the life of Broadcast Journalist Kwadwo Asare Baffour Acheampong who died in the early hours of Saturday November 18, 2017 is to set off activities to mark the burial and final funeral rites of the man many referred to as KABA, family of the deceased has revealed.
Friends and sympathizers of the late broadcaster are expected to gather for a one-week celebration on Saturday, November 26. Thereafter, the family will detail a list of activities that forms part of activities to bid a final farewell to the celebrated presenter.

A close source to family of the deceased indicated that plans were underway with the Multimedia Group to have the one-week celebration at the forecourt of the Joy FM building - the exact location for a memorial service held in his honor Monday morning.

KABA until his sudden death, was the host of popular late afternoon political talk show, Eko Sii S3in on Asempa 94.7 FM.

He was married to Valentina Ofori Afriyie who is also a broadcaster with Accra-based Class FM, having worked many years with Radio Gold and Spirit FM in Kumasi.
He left behind a seven-month-old daughter.