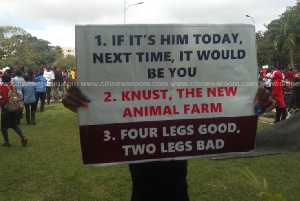 Five alumni and students of University Hall popularly called Katanga Hall of the Kwame Nkrumah University of Science and Technology (KNUST) have been arrested by the Ashanti regional police command.
They were arrested on the evening of Thursday, 5 September 2019 at a gathering held at a pub called Gomax at Maxima an area within Oforikrom Municipality of the Ashanti region.

According to the police, the students and alumni had met to make plans to protest the conversion of the hall into mixed hall.

The police retrieved some placards with inscriptions such as " Katanga, wokum apem a apem b3ba", "We want our hall back or 'Kum y3n pr3ko", "Napo is Obiri Danso's Puppet" from the arrested Kantangees.

The Regional Security Council this week declared KNUST a security zone following agitation by some alumni and students of Katanga and Unity halls over the conversion of the halls into mixed halls.
The Katangees had earlier told Kumasi FM's Elisha Adarkwah, before the police stormed the pub to disperse and arrest them that they want the Katanga Hall reverted to an all-male hall.