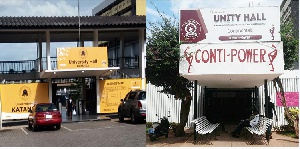 Presidential hopeful of the opposition National Democratic Congress, Dr. Ekow Spio Garbrah has described as a "wrong move" decision by university authority at the Kwame Nkrumah University of Science and Technology (KNUST) to convert some single sex halls into mixed ones.
According to him, the move if not revised immediately will be a recipe for disaster.

"This whole idea of converting male halls of residence to mixed hall, well there are many arguments on both sides but I don't get it because I was a commonwealth student, and those of us in commonwealth hall we've made up our minds that commonwealth will never be made a mixed hall" he said.

He added: "If you try to break a tradition you will have problem. If it is a matter of building more female hostels, just build it".

Meanwhile, the planned reopening of KNUST today is uncertain as Chancellor of the university Otumfuo Osei Tutu makes another attempt at resolving the impasse between government and labour unions at the school over the representation on the governing council.


The two parties have failed to agree on the membership of the council, stalling its reconstitution and the reopening of the school after it was shut after violent protests by students.