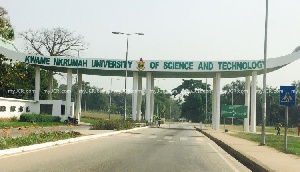 An Executive Member of the Student Representative Council (SRC) of the Kwame Nkrumah University of Science and Technology (KNUST) has revealed to MyNewsGH.com that the university's security personnel had an inhumane cell in which they detained and brutalized students without bail. Many other students confirmed same to us.
MyNewsGH.com learnt things were so bad that sometimes it took the efforts of the SRC President at midnight to secure bail for 'jailed' students at the KNUST Security's Prison facility.

He said the window-less prison room was just like the main prison system as it was impossible to see outside when locked up and without meeting their strict bail conditions, release was nearly impossible.

"This cell is not like the normal cells where you will be made comfortable. It's even difficult to see sunlight", Enoch Kwarteng an Executive member of the SRC revealed this in an audio of an interview obtained by MyNewsGh.com.

It was revealed that the Dean of Students and other top officials of the University were in the know of the development.

Lots of things have been unfolding since students of the university undertook their violent demonstration Monday that saw the destruction of properties including vehicles literally putting the administration block that houses the Vice-Chancellor and other senior members in ruins which one of them was set ablaze.
Many groups and opinion leaders have however condemned their actions including Alumni of the university.

But Enoch explaining well on issues that triggered the unfortunate demonstration stated that, the KNUST Security service used the so-called cell to dehumanize students on campus.

"I will state it clearly that there is a cell at KNUST. The KNUST security is not police, they are just like ordinary security personnel. They have security post and at the post, they also have cells. This small room is not like the normal cells where you will be made comfortable. It's even difficult to see sunlight in their cells, the place is very uncomfortable". He said.

Confirming the actions of the security personnel, Enoch affirmed that "lots of students have been detained in the so called cell whiles many have been kept there overnight".