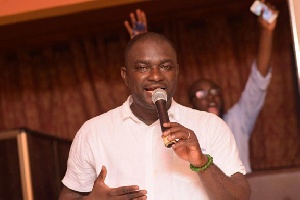 Mon, 22 Oct 2018 Source: SIRI Communications
The Operations Director for the Alliance for Accountable Governance (AFAG), Mr Davis Opoku has called on the Ministry of Education to immediately intervene in the current impasse between the students of the Kwame Nkrumah University of Science and Technology (KNUST) and the Vice Chancellor, which has led to the destruction of School properties.
In a post on Facebook, Mr Ansah is calling on the Vice-Chancellor, to step aside and allow a dialogue with the student leadership to amicably settle the issues at stake "before it gets out of hand."

The ongoing protest was triggered by the recent arrest and subsequent release of some students by police in the Ashanti Region. Barely a week after management of the University had served notice that it had suspended the organisation of vigils, also known as 'morale's' in the school, 10 students, and one alumnus, were arrested on Friday while holding a vigil on campus, a development which angered some parents and guardians who accused the authorities of intimidation.

The Students' Representative Council (SRC) of the Kwame Nkrumah University of Science and Technology (KNUST) announced that on Monday, October 22, they embark on a demonstration over what they say is the continuous unfair treatment meted out to them by the management of the university.
Source: SIRI Communications