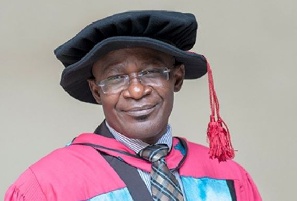 Wed, 24 Oct 2018 Source: newswiregh
An aspiring Deputy National Youth Organizer of the NDC, Lawrence Lamptey is calling on Professor Obiri Danso to resign as the Vice Chancellor of the Nkrumah University of Science and Technology (KNUST).
His call follows the indefinite closure of the KNUST after students destroyed properties in protest against what they described as inhumane treatment by authorities and security men on the campus.

In a statement to register his displeasure over the situation, the aspiring Deputy National Youth Organizer of the NDC, blamed management of the institution for the crisis.

According to Lawrence Lamptey, "The authorities got everything wrong and in an attempt to once again mete out injustice on innocent students, they created an unfortunate scene."

He said, the "thunderous resistance" exhibited by the students shows how frustrated they were, hence their decision to defend their rights and fight the injustice being meted out on them by the authorities.
The NDC Deputy National Youth Organizer hopeful strongly believes the VC must, step down for being irresponsible and failing to protect the students' rights and attempting to "suppress students' activism".




Source: newswiregh