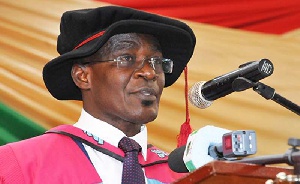 Vice-Chancellor (VC) of the Kwame Nkrumah University of Science and Technology (KNUST), Professor Obiri Danso, has waded into a decision of the student community to boycott lectures today, October 22 following some grievances.
The VC, in a text message sent to all students, advised them to rescind their decision not to attend lectures and announced that lecturers would be in class today to teach.

"The attention of the VC has been drawn to a boycott of lectures by students on Monday 22nd Oct. 2018. You're reminded that attendance at lectures is compulsory and the decision to attend lectures or not remains an individual affair. Lecturers will be at lectures as usual and you are entreated to disregard any contrary information,'' the message read.

It follows calls from the Student Representative Council of the school informing student not to attend lectures in a move to register their displeasure over recent happenings in the school which include brutality among other things.

The letter signed on October 21, 2018, by an executive of the SRC had "No Lectures tomorrow" written in capital letters.

However, VC of the school, Professor Danso, has stepped into the matter to urge students to disregard information about boycotting lectures.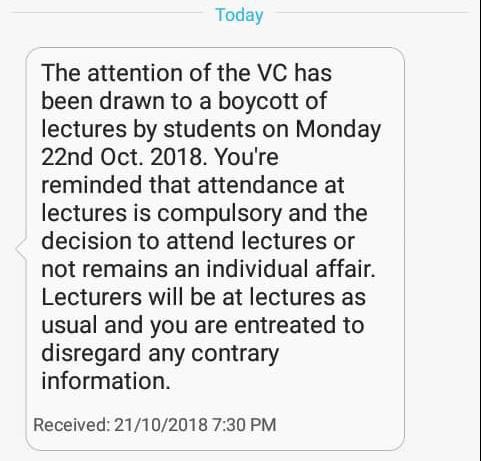 YEN.com.gh earlier reported that aggrieved students of the Kwame Nkrumah University of Science and Technology (KNUST) were set to demonstrate over the recent brutality meted out on students by security personnel at the University.

There has been a lot of tension in the school following the university's decision to convert all the unisex halls into mixed halls.

Since the decision was taken, some students and past students have kicked against it and have clearly stated their reluctance to support such an idea.

On Friday, the issue took another twist after eleven students including an old student of the university were arrested and put behind bars at the KNUST police station.

The students were reportedly beaten and brutalised by the University's security personnel before being handed to the Police for holding a vigil without permission.

This subsequently led to some parents storming the police station to demand the release of their wards after they were detained.