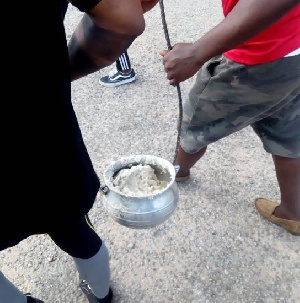 As earlier reported by YEN.com.gh, the Kwame Nkrumah University of Science and Technology (KNUST) has been closed down indefinitely.
This following a disturbing demonstration by some members of the student body.

According to the report, the closure was ordered by the Ashanti Regional Minister Simon Osei-Mensah.

While reacting to the violence that erupted the regional minister explained that decision was arrived at after a meeting was held between the Regional Security Council (REGSEC) and the school authorities.

The violence erupted when students embarked to demonstrate over a recent brutality meted out on students by security personnel at the University.

The student body decided to boycott classes on Monday, October 22, 2018, as a way of registering their displeasure with happenings on campus.

It, however, ended in widespread chaos was recorded in some parts of the school as the students reportedly damaged some school properties including vandalizing the school's administration block.
But in all the chaos, there was a funny twist. Some students shifted from the focus of their demonstration and stormed the house of a security officer.

After storming the house, they seized a pot of banku which was on fire and marched away with it.

In a photo of the hilarious moment YEN.com.gh sighted on social media, two people said to be students engaged in the demo were seen carrying the pot of banku.

It is not known what the students did with the pot of banku but the hilarious photo has been trending since it surfaced on social media.