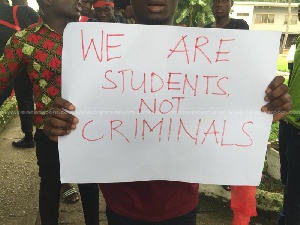 In an attempt to resolve issues which resulted in the violent protest by students, management of the Kwame Nkrumah University of Science and Technology has held a negotiation meeting with the leadership of the Students Representative Council (SRC).
The meeting held earlier today was to address issues regarding the cancellation of hall week celebrations, complete lift of ban on morale, assuring student's safety against brutality by security personnel on campus amongst other related issues.

Management assured students that they would put all the necessary measures in place to address the concerns of students.

SRC President, Kelvin Sah, has however clarified that, the impasse was as a result of student brutality on campus and not anything related to the conversion of Katanga Hall hence, does not wish for the impeachment of the Vice Chancellor.

A press release signed by the SRC President, stated that, "We want to thank the university management for cooperating, listening and making the necessary efforts to address our concerns. We hope that this new path of mutual respect we are charting sustains."

"It is not the official position of the SRC and students that the Vice Chancellor be removed. All we wanted was the issues raised to be addressed and they have been addressed duly. And as such, all we seek is for things to be restored to normalcy for the academic work to resume," the statement further read.
The SRC however called on government and the Regional Security Council to call off the close down of the school so students can resume their academic work.

They urged all students of the school to be responsible and be each other's keeper.



Background

The School's security on Friday, October 19, 2018 pounced on unarmed students who were having a peaceful vigil at the forecourt of the hall in protest of management's freeze on "morale", a usual Friday night jamboree in all the halls at the school.
The University in a communique signed and posted both the Continental Hall and University Hall Management asked the student body to cease their usual 'Friday Night Morale' as the school has suspended the activity.

The notice read "Notice is hereby given that all forms of "morales" in and around the University Hall are suspended with immediate effect.

This decision was taken in view of several negative issues encountered recently with respect to morales in the hall. Any person who flouts this directive shall receive the necessary sanction and response".

Angel FM's Nanayaw Amagyei who was at the school at the time of the incident told MyNewsGh.com that , school security numbering over 20 and armed to the teeth who said they were "only carrying out an order", pounced on the students who had gathered at the forecourt and singing dirges, arrested seven and brutalized them with canes and stun guns unprovoked.