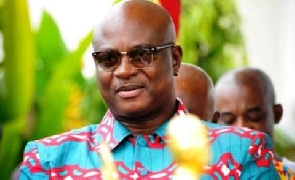 A former Mayor of Kumasi and Flagbearer aspirant of the National Democratic Congress (NDC), Kojo Bonsu has called for calm while urging President Akufo-Addo to intervene in the impasse at the Kwame Nkrumah University of Science and Technology (KNUST).
In a statement, he said he was "saddened with the turn of events that have resulted in the destruction of property and injury to various students."

"Irrespective of the situation at hand", he stated, "The correct procedures must be followed to address grievances and to respond to the concerns of all parties involved."

Background

The School's security on Friday [October 19, 2018] pounced on unarmed students who were having a peaceful vigil at the forecourt of the hall in protest of management's freeze on "morale", a usual Friday night jamboree in all the halls at the school.

The University in a communique signed and posted both the Continental Hall and University Hall Management asked the student body to cease their usual 'Friday Night Morale' as the school has suspended the activity.

The notice read "Notice is hereby given that all forms of "morales" in and around the University Hall are suspended with immediate effect. This decision was taken in view of several negative issues encountered recently with respect to morales in the hall. Any person who flouts this directive shall receive the necessary sanction and response".
A group of security men who were said to be acting based on orders from the authorities, allegedly manhandled students who reportedly flouted the rules and held a mini vigil and in the process one student sustained severe head injuries, bleeding profusely.

The injured student was immediately admitted to the KNUST Hospital for treatment on Friday evening, eyewitnesses disclosed to DAILY GUIDE on condition of anonymity.

Eleven (11) other students, including one former student of KNUST, who were said to be part of the demonstrators, were reportedly overpowered by the KNUST security men, who sent them to the Tech Police Station where they were caged.




KNUST closed down indefinitely

The Kwame Nkrumah University of Science and Technology has been closed down indefinitely, following the violent protests.
The Regional Security Council and university authorities have also imposed a 6pm to 6am curfew on the school starting today.

The students are expected to vacate the university premises latest by 12 noon Tuesday, October 23, 2018.

Only foreign students would be allowed on campus with heavy security presence.