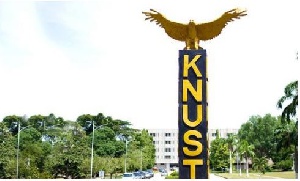 In what may be described as a 'victory' after 'war', students of the Kwame Nkrumah University of Science and Technology, through their Student Representative Council (SRC), have managed to get leadership of the school to reverse some major decisions they took prior to recent disturbances that hit the school.
Management, among other things, was absolute about combining all hall week celebrations into one, cancelling 'morale', centralizing all students' association accounts and evicting constitutionally elected executives who decided to protest their decision to convert single sex halls to mixed halls by going to court.

Enforcement of one of the bans, cancellation of 'morale' however sparked chaos after students decided to hold a vigil on 19th October and were, in the process of being stopped, heckled and manhandled by security officers on the campus, leading to the injury of some 11.

Subsequently, violent protests erupted leading to the destruction of dozens of vehicles and school properties.

The school was shut down in less than 48 hours with all Ghanaian students packing out of campus.
Contrary to previous times when grievances channeled to management were 'ignored' as suggested by statements from its student leadership; the SRC, authorities, after recent events have been receptive and more considerate.

A statement signed by SRC President Kelvin Sah indicated that management had lifted the said bans and made decisions reasonably favorable to the students.

According to portions of the statement, "In light of recent events that transpired on campus, the SRC in its continued pursuit of a fasting solution to the impasse between students and university management, we have engaged the management to address the following issues and these are the decision reached on them:"

1. Return to previous hall/college week celebration schedules. All hall celebrations will be celebrated separately.
2. Open engagement with students regularly (Have an open forum with students to get to know their concerns). Also, students will be treated with respect and dignity - unnecessary harassment from any quarters in their residential life will be promptly attended to.

3. Reverse decision to consolidate/centralise all student association accounts.

4. Complete lift of ban on morale.

It further stated that measures had been put in place to breach the strained relationship between students and security personnel and to ensure that no such standoff reoccurs moving forward.


Background

KNUST was shut down indefinitely following riots that rocked the school. Delegations from the Ministry of Education, the Asantehene and other stakeholders, after the incident met with management of the school to have talks and deliberate on the way forward.

The Governing Council of the school was also dissolved and an interim one sworn-in with government directing that the school be reopened within 14-days. Groups all the while were calling for the 'head' of Vice Chancellor, Prof. Kwasi Obiri Danso, describing his administration as appalling and autocratic and demanding that he be sacked.
Meanwhile, Lecturers at the Kwame Nkrumah University of Science and Technology have declared an indefinite strike over the government's dissolution of the university's governing council.

The strike takes effect today [Friday, October 26, 2018], although students have left the campus following Monday's violent protest.

The lecturers said they do not support the government's arbitrary decision without due consultation with them and also sidelining the Vice Chancellor of the University from the interim council.