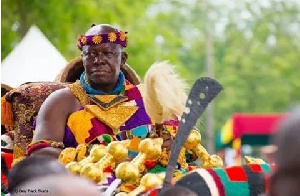 The Chancellor of the Kwame Nkrumah University of Science and Technology (KNUST), Asantehene Otumfuo Osei Tutu II, will be intervening to find an amicable solution to the issues that resulted in students of the school going on the rampage and destroying properties of the university during a peaceful demonstration that turned ugly on Monday, 22 October 2018.
The Otumfuo's representative, Batamahene Baffour Amankwaatia IV, who visited the campus on Tuesday afternoon, told the media that the Asante monarch was currently out of the country but will engage the relevant stakeholders upon his return.

"We hope the university will reopen soon for academic work to resume," the Batamahene told journalists.

KNUST has been shut down indefinitely following the violent demonstration by the students in which over 30 cars and 10 motorbikes were vandalised and several other properties destroyed in protest to a directive that there will no longer be vigils and gatherings to sing 'jama' songs.

Ten students and one alumnus were arrested on Friday and later released. This, coupled with the manhandling of some of the students by the school's private security got the students infuriated, leading to the protest march on Monday.


Meanwhile, the university has imposed a 6 pm to 6 am curfew on the school enclave until further notice. There is heavy military and police presence on campus.