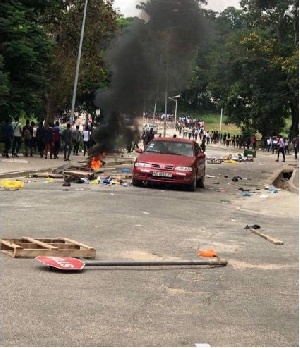 The University Teachers Association of Ghana has condemned as appalling the destruction of properties on the campus of the Kwame University of Science and Technology (KNUST) following a violent protest.
The students on Monday boycotted classes and poured on the streets of the University, in protest of alleged brutalities meted out to their colleagues who were arrested at the University Hall last Friday and later granted bail.

The protest which was supposed to peaceful, according to the Students Representative Council (SRC), turned chaotic with angry students burning the official vehicle of the Dean of Students and reportedly ransacked the Vice Chancellor's office.

UTAG in a statement Tuesday said it found the development at KNUST worrying and whilst it believes in the rights of students to go on a lawful protest, "It is, however, appalled by the acts of vandalism, bodily injuries and destruction of properties on the campus."

Close down apt

According to UTAG, the shutting down of the school on the advice of the Ashanti Regional Security Council was apt "in the face of the current challenges."

It urged government to immediately put in place the necessary measure to safeguard the lives of the staff of the University and their properties.
Again, it calls on all faction to remain calm and quickly resolve the impasse so that normal academic life will be restored as soon as possible, with a warning to political actors "to stay away and allow the university and its structures to bring this matter to an amicable resolution."



Twenty Arrested

Twenty students of the university have since been arrested by the police over the riots. The students who are in Police custody are yet to be charged, according to Cpl. Prince Dogbatse Deputy Public Relations Officer of the Ashanti Regional Police Command.

He told Morning Starr host Francis Abban Tuesday morning that the students are assisting the Police with investigations.

We can't be blamed for damage
The SRC says no student should be held responsible for the destruction of properties on the university campus during Monday's violent protest.

According to an executive of the SRC who spoke on condition of anonymity on Accra based Citi FM, it was unfortunate university properties and vehicles belonging to some lecturers were vandalised but "no student should take responsibility for the destruction".

He said the violent protest was a "necessary evil".