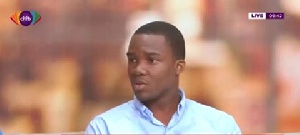 Authorities of all universities particularly public universities in the country will learn from recent events at the Kwame Nkrumah University of Science and Technology (KNUST), to put in place the appropriate measures to ensure the rights of students are respected and the right environment is created for progressive learning and academic life, President of the Student Representative Council, Kelvin Sah has said.
Speaking extensively on the subject on Citi TV's 'Big Issue' Saturday, Mr. Sah, though described the incident as unfortunate said it was important that management of other schools pick lessons from it to improve their relationship with the student body and prevent any such future occurrences.

"At least this will send a strong message to all other institutions and students as well that moving forward, it will be very important to engage students and ensure that they are having a comfortable life and a good academic life as well on campus", he said.

Kelvin Sah further advised that among issues being perused, management considers concerns raised by students about the conversion of male halls into mixed halls.

"We met with management after the closure and curfew on Wednesday and discussed and finalized on the acceptance of all our issues and grievances, the only issue left on the radar was the matter of the conversion and we had set a day to still continue discussions on the conversions because I made it clear to management that there is one remote concern; conversion, and if we choose to solve all the problems and ignore that, who knows, tomorrow, the students might still come out to come and cry about that problem. At this point what we are looking forward to is that upon all the agreements we've arrived at with management, that the final one will also be looked at which they said they'll consider moving forward".

He, however, acknowledged the fact that management is on their feet, working assiduously with other stakeholders involved in the matter, to bring finality and restore calm to the institution.


"There's not yet total calm, students are still hoping and expecting we'll arrive at a resolution and be back to school and all our grievances will be met….I'm happy about the fact that progress is being made towards a resolution", he noted.

"Closure of the school is an issue we must be concerned about now because students are home, they are worried, parents are worried, academic life must progress, we are hoping that all stakeholders will be at peace and nothing will mar the situation at this moment. We are looking at how soon we can get to campus, how soon we can get our grievances heard and how soon we can let peace and calm prevail all across", he further added.



Background
KNUST was shut down indefinitely following riots that rocked the school. Delegations from the Ministry of Education, the Asantehene and other stakeholders, after the incident met with management of the school to have talks and deliberate on the way forward.

The Governing Council of the school was also dissolved and an interim one sworn-in with government directing that the school be reopened within 14-days. Groups all the while were calling for the 'head' of Vice-Chancellor, Prof. Kwasi Obiri Danso, describing his administration as appalling and autocratic and demanding that he be sacked.

Meanwhile, University lecturers and educational workers have been offered a seat on the school's interim council after their exclusion sparked a strike.



A statement by the Education ministry said the inclusion of UTAG and TEWU is to "further enhance stakeholder involvement".
University Teachers Association of Ghana (UTAG) and Teachers and Educational Workers Union (TEWU) had expressed shock at government decision to dissolve the university's governing council after a student protest turned violent leading to the shutting down of the school Tuesday.

The lecturers have called the decision an attack on academic freedom.