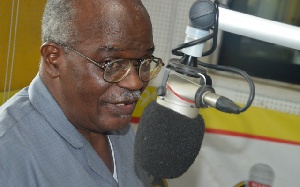 A former Deputy Rector of the Ghana Institute of Management and Public Administration (GIMPA), Professor John Bright Ahetor, has said the intervention of Asantehene Otumfuo Osei Tutu II in the impasse between the students and the authorities of the Kwame Nkrumah University of Science and Technology (KNUST) is "belated".
On Monday, a peaceful demonstration by the students against the authorities degenerated into riots, resulting in the vandalisation of 40 cars, 10 motorbikes and several school property.

The Asante monarch, who is the Chancellor of the university, is expected to meet the Vice-Chancellor Prof. Kwasi Obiri-Danso, and other stakeholders today, Thursday, 25 October 2018 on the matter.

The demonstration was in protest to a directive that there will no longer be vigils and gatherings to sing 'jama' songs.

Before Monday's protest, 10 students and one alumnus were arrested on Friday and later released. This, coupled with the manhandling of some of the students by the school's private security got the students infuriated, leading to the protest march.

Some analysts also say the school's recent conversion of all single-sex halls into mixed ones, over which the student leadership petitioned the Chancellor and President Nana Akufo-Addo to intervene, is a contributory factor to the riots and vandalism.
The march turned violent when the police tried to disperse the crowd.

The government, through the Minister of Education, has already met the Vice-Chancellor over the matter.

Prof Ahetor told Class91.3FM's Executive Breakfast Show on Thursday that the monarch's invitation to the Vice-Chancellor has come a bit too late in the whole affair.

In Prof Ahetor's view, the impasse could have been resolved and prevented from escalating, if the management of the university had engaged the students without taking entrenched positions on the issues.

All the stakeholders, he said, should "recognise and respect each other's rights", and be flexible in dealing with the matter in order to arrive at a common ground.
The retired professor of Law and Financial Accounting, however, expressed concern about how the vandalism has tarnished the image of KNUST.

The riot, he said, is a "serious blot on education in Ghana".