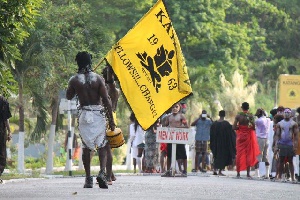 Students of the Kwame Nkrumah University of Science and Technology (KNUST) have called for the creation of a platform that would help enhance communication between students and alumni.
They also urged members of the alumni to be willing to share their life experiences and challenges to enable the students' to learn from them and fine-tune their personal life goals as they prepare to fulfil their future aspirations.

There is also the need for conferences, seminars and informal interactions on organization of life goals and future planning.

The students made the call at a mentorship programme organized by the KNUST Global Alumni dubbed: "An open conversation on our future. A Mentorship Programme for KNUST Students and other Tertiary Students."

Facilitated by Mentors World, a networked community of supportive individuals who are ready to mentor and be mentored, the programme aimed to equip the students with tools and skills to enable them overcome challenges they encounter in the effort to deliver on their future goals.

Mr Heyman Addae of Mentors World, urged the students to see personal challenges as stepping-stones to future progress, and asked them to stick to their goals, and identified ways to overcome each challenge along the progress path.

Besides, he said it was important for the students to learn from each other in order to accelerate their progress into the future, emphasizing the importance of learning also from experiences.
"As much as we learn from the past, we look into the future to examine what to do differently to accelerate towards the future goals," he said.

Mr Tony Danklu, an Alumnus, said the mentorship exercise aimed to build a stronger bond of relationship between the alumni and the student body and to build responsible students, who would be able to deal with challenges on their future goal path.



He said the Alumni, would extend the exercise to the benefit of other students and called on the students to use the opportunity of being in the house to engage in something worthwhile before going back to school.

The students said they would want to go back to school as quickly as possible and called for open discussions on the issues at the University to pave the way for peace.