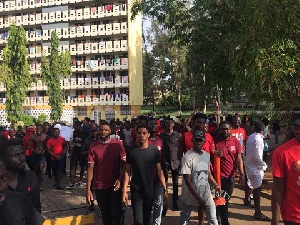 Lawyer Tettey Wayo, an alumnus of Unity Hall (KNUST) has blamed the Judiciary for the act of vandalism witnessed yesterday during a supposed peaceful demonstration by some aggrieved students of the University.
According to him, the root of the commotion stems from the failure of the court to uphold an injunction application which sought to prevent the school's authorities from converting single-sex halls to unisex halls.

A Kumasi High court in August threw out an injunction application seeking to prevent authorities of Kwame Nkrumah University of Science and Technology (KNUST) from converting University hall and Unity hall to unisex halls.

The court explained that residence has already been granted to female students and seeking to prevent same would interrupt the activities of the school.

Speaking sit-in-host Akwasi Nsiah on Anopa Kasapa on Kasapa Fm, Mr. Wayo said the protest which turned violent could have been curbed or prevented if the high court had held the application to maintain the hall as it was.

"The decision by university authorities to change the single halls into mixed halls brought some misunderstanding between the student body and the authorities. Because we are law-abiding, we petition the court to resolve the impasse. We also put in an injunction to prevent the schools from it intended conversion but the court threw out our application. As a lawyer, I can say that the judiciary has failed us that is way what happened, happened."
He added: "If the court had not thrown out our application, I'm sure nothing of that sought would have happened. The court rather gave the university authorities the go-ahead to convert all the halls into mixed. What that means is that the court has assisted the university to go ahead to convert the halls already without the matter going through the judicial length".

Lawyer Tetteh Wayo explained that, although the act by the students is condemnable, students felt betrayed and unduly suppressed by university authorities.

Meanwhile, due to the development, students, except foreign nationals of the school have been asked to vacate the school premises by midday on Tuesday, October 23, 2018.

The school will be closed down indefinitely in the wake of the unrest.