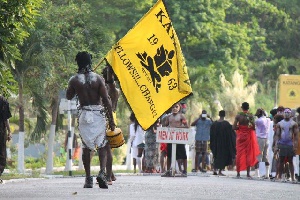 Government has succumbed to pressure from various bodies in protest against the conversion of the University Hall otherwise known as Katanga Hall of the Kwame Nkrumah University of Science and Technology (KNUST) into a mixed hall.
The decision by the Governing Council of the University last year was met with fierce resistance by students characterized by violence which led to the destruction of both private public property by some rampaging students.

Government in its latest action through the Minister of Education, Dr Mathew Opoku-Prempeh has kicked against the conversion of University Hall (Katanga) from a male hall of residence to a mixed one.

In a letter signed by the sector Minister, the government while conceding that that KNUST has the right to convert the hall, urged it to consider "other views" on the conversion policy, stating clearly that the position of Government is that Katanga Hall remain an all-male hall.

The government argues that this will preserve "a peaceful and conducive environment for effective academic work and cordial relationships in the University."
Already, the KNUST campus has been declared a security zone by the Ashanti Regional Security Council (REGSEC).

REGSEC claims to have picked up intelligence of impending violence being planned by students and alumni owning in part to the planned conversion of Katanga.

Similar plans to convert the hall last year led to protests and disturbances that affected the smooth operation of the University.