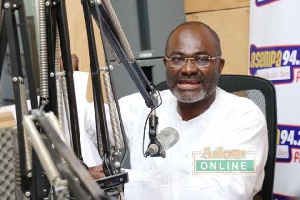 The opposition National Democratic Congress (NDC) may have to gird its loins against further leakage of explosive audios of its secret meetings to hatch plans towards election 2020, MyNewsGh.com reports.
Just a day after a leaked tape in which its National Chairman, Samuel Ofosu Ampofo was caught giving some undesirable directives to party communicators to attack heads of some state institutions with his backing, Member of Parliament (MP) for Assin Central, Kennedy Agyapong is asking the party to brace itself for more of such as he is set to drop more.

According to him, what has been released is just the tip of the iceberg as he is set to drop more shocking recordings of secret meetings of the NDC and their diabolic plans hatched against the New Patriotic Party (NPP) and some key members in government.

"What has been played on Oman FM is just a fraction of what I have compiled about the NDC and their evil plot against this country…I will be dropping them in batches so that Ghanaians will see that the NDC has nothing to offer this country in their desperation", he revealed in an interview MyNewsGh.com monitored.

He revealed that part of the plot by the opposition was to assassinate the Vice President, Dr. Mahamudu Bawumia promising to blow their cover since such plans are acts of criminality and have nothing to do with politics.

MyNewsGh.com is learning the controversial leaked tape of the meeting of opposition National Democratic Congress' (NDC's) National Communication Team leaked to Kennedy Agyapong by an NDC insider cost the Assin Central MP GH¢5000.

The meeting which lasted more than 2 hours was recorded and sold to the Member to Parliament (MP) for Assin Central Kennedy Agyapong two weeks ago, MyNewsGh.com learnt, and he paid cash for it.
The details of the 2 hours 30 minutes tape which was first played on Oman FM and has generated controversy has since attracted wide condemnation conditional on the establishment of the true identity of the voice. Many say it is Samuel Ofosu-Ampofo, NDC National Chairman but National Communications Officer, Sammy Gyamfi claims it is doctored.

That notwithstanding, Mr Agyapong has promised to feed listeners of Oman Fm a full dossier of the leaked tapes in the coming days.