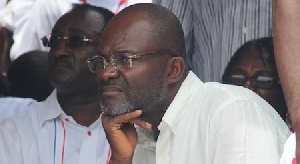 Constituents in the Assin Central have promised a showdown with detractors of the lawmaker for the area.
They alleged that some elements within the party in collusion with National Democratic Congress (NDC) faithful are planning a demonstration against New Patriotic Party (NPP) firebrand Kennedy Agyepong, who is also the Member of Parliament (MP) for the constituency.

But in response to their threats, the youth wing of the NPP observed that Kennedy Agyepong should rather be hailed for his contributions to the development of the area.

"Hon Kennedy Agyepong has done a lot and no one can compare to what he has achieved. He facilitated the creation of the Assin South District. Every Community in Assin has a legacy of Kennedy Agyepong.

If you look at the Common Fund that comes to him and what he has done it is obvious he has done more than the amount. He pays fees, construct various projects, pays hospital bills among others", Francis Anning, leader of the youth stated.

According to him, residents of Assin know the good works of their God given MP and therefore cautioned anyone who plans of engaging in any propaganda demonstration in the district to be mindful of such an action.

Read full text of their address below:
The Youth wing if Assin Central constituency of the New Patriotic Party wishes to set the records straight on some achievement of Hon.Kennedy Agyapong Assin central ..P and what he is currently doing for the good people of Assin.

We want to urge the good people Assin not to capitalize on his shirt falls but his positive attitude that has brought massive development in Assin and it beyond.

Let us not forget that Assin goes beyond Assin Fosu. There are other smaller towns and villages in and around Assin Fosu which need to be developed.

His catchment areas in the past years used to cover both Assin North and Central constituency until 2012.

We wish to bring the attention if the good people of Assin that on records we have had two members of Parliament before, but the coming of Hon.Kennedy Agyapong comparable none of them come near to Hon.Kennedy Agyapong interms of development in both human and infrastructures.

Some of his achievement and what he is currently doing are Creating of new district, Infrastructure development, Human Development, Payment of hospital bills,Construction of Assin Fosu By- Pass,Construction of Fosu main road, Dompin– Twifu Praso road,Brofoyedur– Akyim Oda road and Senchem road Town road and GIFEC
They finally warned those Media Personnel to desist from that lazy way of journalism and be serious as journalism is a professional work or else we shall resort to more legal and forceful means to curtail that irresponsible journalism among some media personnel in Assin.

We are not in any way against constructive critism since it is a legal tool in our modern democratic suspension but the process leading to that must be on a genuine ground.

It is believed that, some of the radio journalist in Assin Fosu who are interested in propagating falsehood.

We are also advising our industries party youths and others to fall on the constituency executive and party father's if they have difficulties in some issues in the constituency and stop criticism.